Artist Statement: Når jeg maler
Jeg bruger akrylmaling fordi det tilfredsstiller mit utålmodige og passionerede temperament.
Mit mål er at spejle andres sjæl, at se, at de ser sig selv i min kunst. Det er essensen af hvad vi alle gør hver dag.
Vi spejler os selv i andre og tillægger dem egenskaber vi selv rummer. Derfor elsker jeg at høre hvad andre ser i min kunst, for det giver mig et lille glimt af deres sjæl og de spejler min.
Selvom stilen har ændret sig igennem årene, har min indre rebelske, farverige og lidt vanvittige sjæl altid fundet vej forbi mit ego og ud igennem penslen.
Jeg connecter med det sted i mig, hvor alt omkring mig forsvinder og det eneste der er, er nuet. Vi har udtrykt os igennem tegning og malerier siden starten af vores eksistens. Jeg oplever at det at skabe kunst forbinder mig med noget oprindeligt.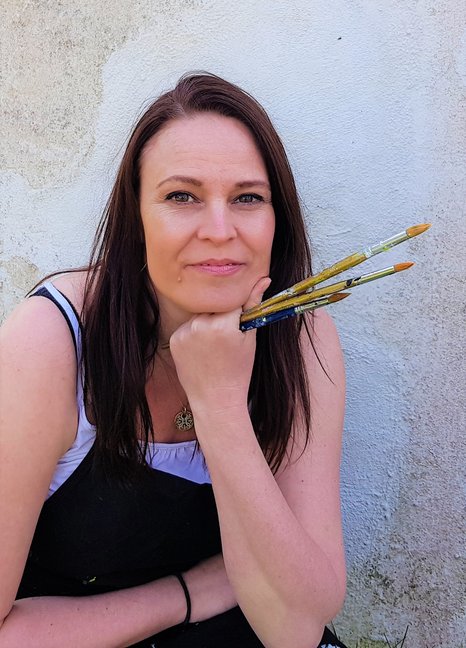 Mette Egebæk billedgalleri
Klik på et billede for større visning.
Mette Egebæks cv
2021
Kunstforeningen Haas-Meincke, Skovlunde
Debut. Separatudstilling, Galleri Blæst – For the Joy of Art
Kunstforeningen Nordjyske Medier, Aalborg
Kunstforeningen NIRAS, Aalborg
2020
Sofiendal sundhedscenter, Aalborg
"Alle tiders kunst" Ridehuset i Århus. AFLYST
Randers Kunsthus
KONTAKT
Galleri Blæst – For the Joy of Art
Klithusevej 25
9240 Nibe
5071 0511
christine@fjoa.dk 
ÅBNINGSTIDER
Lørdag-søndag klokken 11-17.
Vi holder åbent efter aftale. Ring eller skriv til os.
MobilePay: 83 90 29